Contacting the Research Team
To reach the entire research team, email estoniaevoting@umich.edu.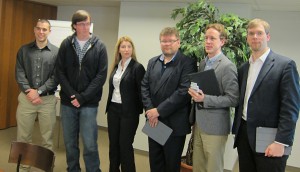 Report Authors
J. Alex Halderman, University of Michigan*
J. Alex Halderman is an assistant professor of computer science and engineering at the University of Michigan. A noted expert on electronic voting security, Prof. Halderman helped demonstrate the first voting machine virus, took part in California's landmark "top-to-bottom" e-voting security audit, and helped lead the first independent review of election technology in India, the world's largest democracy. In 2010, he led a team that hacked into Washington D.C.'s Internet voting system as part of a public security test. He is the instructor of Securing Digital Democracy, a massive online course about e-voting's risks and promise. He is also well known for developing the "cold boot" attack against disk encryption, which altered widespread security assumptions about the behavior of RAM, influenced computer forensics practice, and inspired the creation of a new subfield of theoretical cryptography. His work has won numerous distinctions, including three best paper awards and the Election Verification Network's John Gideon Memorial Award. He received his Ph.D. in computer science from Princeton University.
Harri Hursti, Independent Security Researcher*
Harri Hursti is a Finnish independent security researcher. He is well known for taking part in a series of e-voting security studies in the U.S. and around the world. A memory card hack he demonstrated against Diebold voting machines is popularly known as "the Hursti Hack" and appeared in the HBO documentary, Hacking Democracy. Among other studies, he participated in the EVEREST report commissioned by the Ohio Secretary of State and a Princeton University study ordered by the New Jersey Superior Court. Hursti is a recipient of the EFF's Pioneer Award for his work on electronic voting. He has lived in the United States since 2009.
Jason Kitcat, Open Rights Group*
Jason Kitcat is the Leader of Brighton & Hove City Council, the UK's first Green-led principal authority. Kitcat sits on the Leading members group for the Key Cities association of 23 mid-size cities and also has a number of roles at the Local Government Association. He has been a Green city councillor in Brighton for 6 years. Before becoming Leader in 2012 he was Lead member for Finance. His professional background is in technology and online businesses such as Netmums and the Open Knowledge Foundation. Kitcat is a prominent digital rights campaigner, particularly with regards to electronic voting and counting. He wrote GNU.FREE, the Free Software Foundation's e-voting software before concluding that Internet voting was too risky to be used for elections of any importance. Kitcat helped found the Open Rights Group and served as its e-voting co-ordinator. He led 25 election observers in monitoring e-voting and e-counting across the 2007 English & Scottish elections. The resulting report helped set the agenda for electoral modernisation with e-voting no longer a government priority. He holds a BSc(Hons) from the University of Warwick in Computer Science & Management Science and MSc Technology & Innovation Management from the University of Sussex.
Margaret MacAlpine, Post-Election Audit Advisor*
Margaret MacAlpine is an independent advisor on post-election audits in the United States. Her most notable advisory role was the California Post-Election Risk-Limiting Audit Pilot Program of 2011-2012. There she advised the office of the Secretary of State on the topic of the logistics and management of high-speed scanners in the processing and handling of ballots. MacAlpine is recognized as one of the foremost experts in the country on the scanning and handling of paper ballots for election auditing. Before the California pilot, she audited elections for several counties in Florida and Connecticut.
Drew Springall, University of Michigan
Drew Springall is a Ph.D. student at the University of Michigan, where his research focuses on security and privacy. He earned his bachelor's in computer science from the University of Alabama after serving in the U.S. Marine Corps. He is a recipient of the National Science Foundation's prestigious graduate research fellowship.
Travis Finkenauer, University of Michigan
Travis Finkenauer is a Ph.D. student at the University of Michigan, where his research focuses on security and privacy. Before entering the Ph.D. program, Finkenauer completed his undergraduate degrees in computer science and mathematics at the University of Maryland.
Zakir Durumeric, University of Michigan
Zakir Durumeric is a Ph.D. student at the University of Michigan, where his research focuses on security and privacy. He received the 2014 Google Ph.D. Fellowship in Computer Security.
* Authors who acted as election observers for 2013 Estonian elections
Acknowledgments
This material is based upon work supported by Google/ATAP, by the U.S. National Science Foundation under grants CNS-1255153 and CNS-1345254, and by an NSF Graduate Research Fellowship under grant DGE-1256260.
We have not accepted any financial support from within Estonia, except for travel and accommodations for the observers during the October 2013 voting period, which were reimbursed by Tallinn City Council. The only requirement for that arrangement was that we observe the election.

This work, unless otherwise expressly stated, is licensed under a Creative Commons Attribution-ShareAlike 4.0 International License.